Pandemic Adaptation. How Hospitality and Restaurant Industries Сonform
COVID-19 has wreaked chaos on the world. It has impacted the health and wellness of millions: tested our healthcare system's limits, restricted travel, moved schools and universities online, forced millions of people to stay home, and totally changed the way people interact with each other, and forced millions of people to accept new pandemic adaptation rules.
All over the world companies are doing their best to protect their employees, customers, and communities. As we all still are staying at home, work continues for some and stalls for others. Restaurant and hotel industries are attempting to rebuild themselves and adapt to the present situation, implementing new features, and creating a new customer experience.
Hotels pandemic adaptation
Tough times force companies to think outside the box and become more efficient. While hotel owners make decisions about layoffs and closures, hotel technology companies are grappling with emerging trends that will shape the future of the industry. By no means, does it ease the current situation, but this time will undoubtedly accelerate the long term trend towards digital transformation in hospitality in a variety of ways that will create a stronger hospitality industry in the medium to long term.
The new cleaning standards
The pandemic situation will certainly make guests more sensitive to hygiene in hotel rooms, which leads to a new level of cleaning norms. Cleaning and ventilation standards are going to face many changes. The way we have been doing room preparation and services could be forever altered as we explore new touch-less experiences.
Keyless options are also expected to increase as more and more guests prefer to use their smartphones in lieu of traditional keys. And we are likely to see further growth in environmentally oriented energy solutions such as motion-activated lighting systems, faucets, and toilets as they have unintended benefits of being touchless. This will result in less interaction between janitors and service staff and, consequently, less communication between guests than before. This could change the way guest rooms' layouts and the design of common spaces.
Talking about cleaning norms, companies like Xenex and Pure Room offer high-tech solutions for disinfection, air purification, and sanitization which probably will grant guests more peace of mind than the standard housekeeping routine. In order to make guests' staying more comfortable, hotels will definitely need to think about leveling up their cleaning approaches with some tech ones.
Digital hotels
At a time when in-person experiences are impossible, hoteliers have no choice but to turn online in order to keep their brands alive and consumers engaged. Though many hoteliers have already invested significant money into their digital experience, it is no longer an option but a critical must for the industry to embrace the digital space once and for all.
Cloud-based facility management systems grant hoteliers the opportunity to manage their hotels entirely off-site: from managing reservations and setting rates to conduct 24/7 smart surveillance via video cameras powered with Computer Vision and AI. Cloud-based solutions are the best way to save-up on employees' amount and their time.
Also, leveraging cloud-based messaging systems and chatbots, it is possible to communicate with guests about reservations, cancellation policies, refunds, and everything else — all without meeting in-person.
We're already seeing a preference toward mobile pay options versus cash. Some of Japan's hotels are staffed mostly by robots, though not everything is going great with them, still, this might be a feature trend for investments and development. From facial recognition check-ins to virtual reality to sell hotel space, anything that can be used to minimize guest exposure to staff and other travelers will be embraced.
When it comes to digital marketing, to make up for lost time and revenue during closures, many companies are trying to be proactive, whether it's building new websites, improving their booking engine experience, or ramping up content marketing efforts to stay top of mind and connect with future guests.
The way things are heading, companies will take every possible opportunity to differentiate themselves from competitors once the pandemic is over, and for the hospitality industry, this opportunity is online.
The Four Seasons Hotel in New York City is a prime example of the changes that could be coming soon to hotels across the world. Check-ins and check-outs are performed virtually, with no human-to-human contact. Elevator rides are limited to one guest per car. Room service has been discontinued, and the hotel's restaurant, bar, and complimentary coffee stations are closed indefinitely. The hotel's new dining option: pre-made boxed meals, available in an industrial refrigerator in the lobby. They also considerably downsized the contents of guest rooms, so there are fewer opportunities for germs to spread: minibars, excess hangers, excess linens, and extra pillows were removed.
One of the more adaptable approaches seen in hotels is offering a day-use room as a place to work. With mandatory work-from-home instituted by companies across the country, people are looking for access to technology, high-speed internet, and space/privacy they may not have in their homes.
Rooms for healthcare
Through several initiatives, US hotel chains and independent properties are offering around 3.4 million hotel rooms to healthcare workers in the time of need. A new initiative called "Hospitality for Hope" brings together emergency and healthcare workers with hotel properties that have provided temporary housing as the pandemic crisis grows. Organized by the American Hotel and Lodging Association (AHLA), the program will primarily focus on housing for the healthcare community but some hotels could potentially be used as "Alternative Care Sites" such as an emergency hospital or place for those quarantined to stay if needed.
And this happening not only in the US — almost 200 different hotels in the UK are also making 20,000 beds available to health care staff and key workers who are being deployed to areas of high need, to battle the spread of the coronavirus. It could also help to save hotels at risk of going out of business and keep their people at work.
Restaurants pandemic adaptation
Millions of restaurants around the globe stopped seating customers to fight the pandemic. Restaurants have to adapt and move quickly to shore up their off-premise channels, as well as their food safety procedures by switching to takeout and delivery.
Yet, some restaurants and bars are shifting their business models to match the current demand for "shelter in place" eating experiences. Here are just a few examples of how fine-dining, fast-casual, and other establishments are meeting the current moment with new concepts and rapid innovation.
Crisp & Green has developed a "Home program", a meal kit delivery and pick up service. Ingredients can be assembled at home, or refrigerated and enjoyed throughout the week.
Canlis in Seattle has reinvented its business structure and narrowed down its menu, depending on the time of the day. In mornings — bagels and breakfast sandwiches, at evenings — burgers, salads, and ice-cream. All orders are available via a drive-through operation. And it definitely pays off — they've sold out of nearly 500 bagels in 90 minutes.
San Francisco's Creator is now using its techie forte to distribute meals in a safe, contact-free manner. They've sealed the entrance and all meals are moving through a pressurized transfer chamber. The chamber protects the restaurant's inside from the outside air and has a self-sanitizing conveyor surface. Guests now place orders through an intercom, and then pick up their hermetically sealed, double-bagged meals through the conveyor window.
As people get more used to takeout and delivery options, it will continue to be a big part of the business after the shutdown is lifted.
For many restaurants, the pivot to carryout and delivery services during the coronavirus pandemic has been relatively easy as hundreds of chains had already embraced the on-demand movement.
But, that hasn't been the case for hundreds of independent restaurants and small unit franchisees, who are scrambling to launch digital ordering channels from scratch.
Platforms as EZ-Chow, ChowNow, and many others offer online ordering through a restaurant's Facebook page, its website, Google, apps, or websites. They've created special packages for new clients to help them get up and run quickly. The packages are a scaled-down version of the full platforms, which is geared for delivery or takeout. Even Paytronix has also come up with a solution for restaurants that adds online ordering and delivery orders to their POS systems.
But, from our point of view, the best and most affordable solution for online ordering and delivery is offered by Waitbusters. In order to help restaurants combat losses suffered due to the COVID-19 pandemic, they are offering special year-long rates. Their online delivery features have pickup and contactless delivery options. Deliveries can be done either with restaurants' own drivers, allowing them to hire back some of its employees, or via commission-free Waitbusters' DaaS solution if a restaurant wants to go without the need to hire drivers.
In the meantime, we hope it will be easier for us to continue enjoying the culinary talents of those in our home towns. In Chicago, for example, there is a website that shares the latest news on take-out options and ways to support local bars and restaurants during the pandemic: from delivery order to a gift card purchase for the latter. The Goodhang website allows users to choose a local restaurant, bar, or cafe in New York as a "venue", invite friends to a chat, and encourage friends to support your local establishment through online orders, gift cards, or GoFundMe donations.
The success lies in digital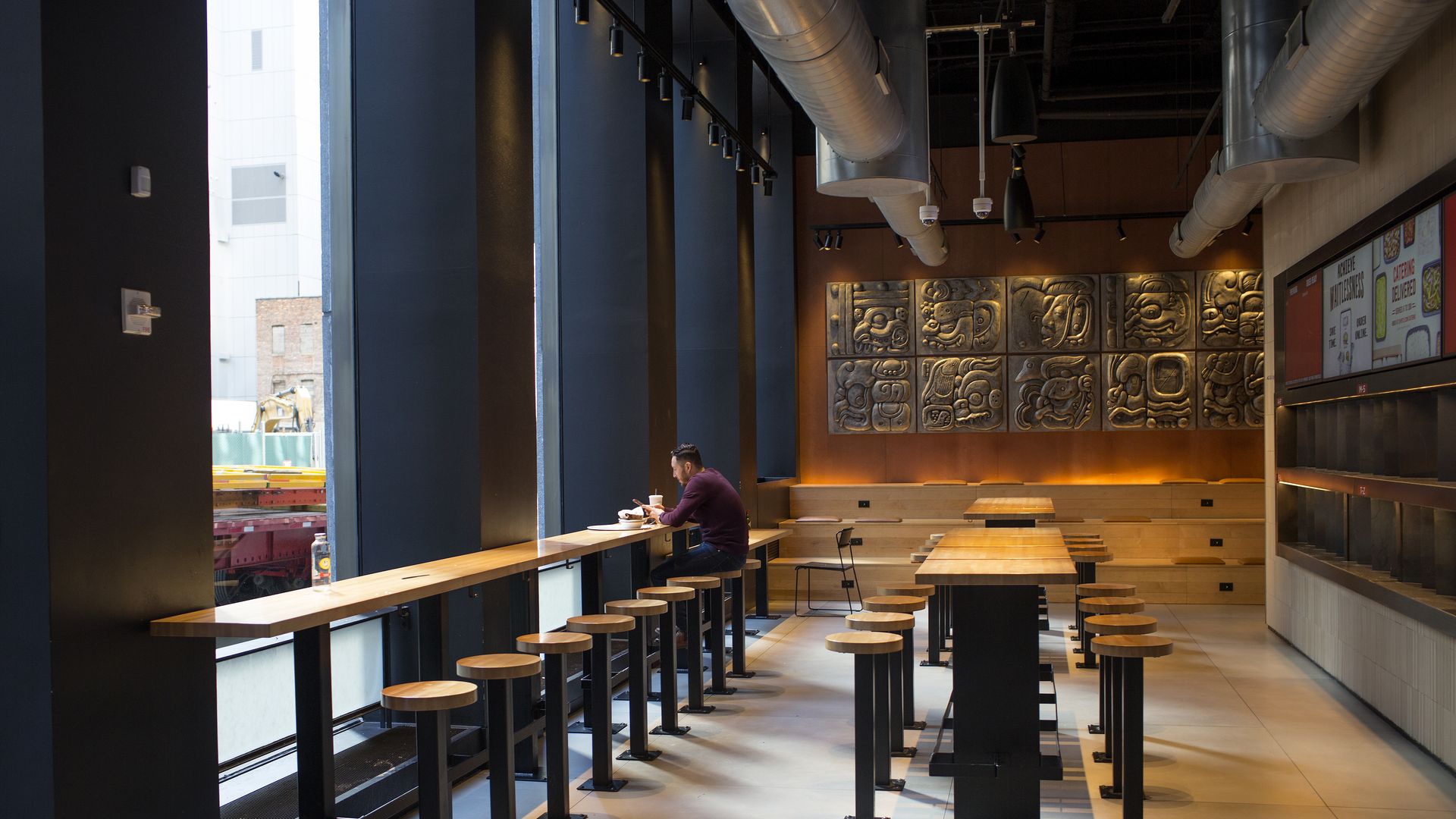 The coronavirus outbreak created a very dark cloud over many industries, including hospitality and restaurants, but we anticipate that when the pandemic passes, we'll see a rush of innovation and creativity coming from companies who can adapt to the new future and saddle new trends.
We see that changes are coming and the pandemic looks to be the catalyst that will push many industries toward more tech-forward and efficient operations.
In you want to take advantage of digital transformation to improve customer service and streamline daily business operations, Softarex's team is always there for you! Feel free to schedule and online consultation on your custom software development with our experts.